Powerful Vegan Millet Recipes High Protein And Gluten-Free
|
Powerful Protein Rich Vegan Millet Recipes

Vegan Millet Recipes are healthy and powerful. Millet is very beneficial and an ancient grain cultivated since  8000 BC .  In Africa, it is for 78% of the population the main source of protein.Millet is easy to digest and makes light, contented, and happy . It is good for our beauty ,hair, nails, and skin benefit from the  silicic acid . Millet is high in dietary fiber and contains Manganese, Magnesium, and the  B vitamin niacin,which keeps the cholesterol levels in Balance. It is also good for diabetes.

Altogether a very healthy grain that was long forgotten. Here we have some powerful vegan millet recipes you really want to try and experience the nutty taste mixed with healthy vegetables,fruit, and nuts. We may discover more varieties of millet in the future. We know here mainly the yellow millet,but in India ,the main producer of millet are many other kinds to find. Try these delicious ,healthy vegan millet recipes and discover how tasty and beneficial they are.
Click here for a Vegan Starter Kit
Powerful Vegan Millet Recipes High Protein And Gluten-Free
This new recipe is a perfect and versatile healthy bread that is gluten free. The texture of the bread is very light and soft with a slight sweet nutty flavour. Am pleased how this recipe turned out. It was a first attempt at making gluten free bread using millet.
 Millet Croquettes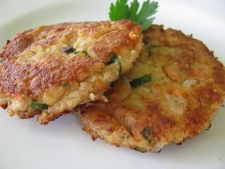 If you love potato cakes, you'll love Millet Croquettes. Like a potato cake made from leftover mashed potatoes, these millet cakes are soft and creamy inside with a crispy exterior. To me, Millet Croquettes have a mouth-feel every bit as pleasurable as the best french fry, but a 1000% more satisfying on other levels.
Hot Breakfast Millet
Hot Breakfast Millet is a great way to start the day. You can make the millet any consistency you like, from soupy to thick. I like mine cooked a little longer so it's thick, but a little experimentation will help you discover your preferences. Get 4 recipes here>The Best Millet Recipes
Photo: Creamy Butternut Chickpea Millet / Produce on Parade
You know how everyone loves chickpeas and butter squash? Yes. And you know how everyone's getting on all up on the millet bandwagon? Yes. Well now combine those three luscious ingredients! Bam! Fluffy millet soaks in a warm, herbed butternut squash sauce dotted with protein-packed chickpeas. All ready to go in about 30 minutes. Now that's a dinner worth forgoing dessert for. Recipe here
A gluten free Mediterranean salad made with millet, Mediterranean seasonings, and a delicious sauce. GF VGN
Photo: Mediterranean Millet Salad Wraps / Nutrition Stripped
Click next for more