4 Vegan Recipes That Taste For You To Enjoy + Video
|
Tasty Vegan recipes to try and enjoy
Two of these tasty vegan recipes come from Katie and Josh. They made also a video for you to make it easy to follow and prepare the Fiery Pesto. The Parsnip and Mushroom Potpies look not only delicious, but they also taste awesome.
We have an Ice Vanilla Bean Macha Latte and a beautiful looking Avocado Strawberry Caprese from Angela Liddon" Oh she Glows" She has a new cookbook with the title Oh She Glows Every Day  you can find it by Amazon,
Quick and Simply Satisfying Plant-based Recipes. we had recipes and videos from Katie and Josh who live in Australia before. They have fun preparing vegan recipes and videos for us, visit their site and read more about them.
We always can enjoy the new vegan recipes of them. Get started and try the 4 tasty vegan recipes and enjoy!
4 Tasty Vegan Recipes To Enjoy
Parsnips were on special the other day.  I've got a bit of a bad habit (I guess it depends which way you look at it!) of seeing what's in the cheaper section at our local Earth Markets. Then I go on a little holiday in my head about what I can cook with the ingredients there. The same day the parsnips were on special, I bought some little 10cm ramekins from Aldi.  So, I came up with Parsnip and Mushroom Pot Pies. I must say they tasted absolutely awesome! Recipe here
How good is Pesto? Pesto pasta is one of my favourite dishes in the whole entire world. My world entirely changed when I found out how to make pesto. The funny thing is, I thought it would be so hard to make. It's always the way, when you think things are going to be quite difficult, but then they turn out to be quite easy! Most pesto that you buy in the shops has parmesan cheese in it. This Fiery Pesto doesn't contain any cheese at all, and is packed full of flavour. I didn't even use nutritional yeast (mainly because I forgot to put it in when we were making the recipe), but I really love it without.Recipes here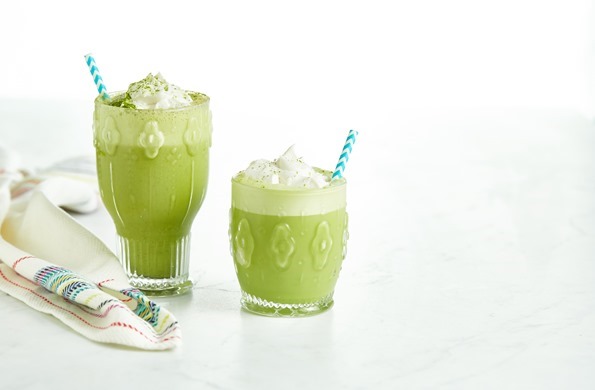 I love that matcha gives me loads of energy without any jitters whatsoever. During the first trimester, I didn't want anything to do with tea or coffee—the thought of it absolutely turned my stomach and I couldn't even be around it. I made the mistake of drinking a coffee one day after a random craving and I was so sick afterwards. But sometime well into the second trimester, I started to crave matcha tea, and found that I could stomach it just fine. Shortly after, this amazing iced latte recipe was born! Recipe here
Meet your new favourite summer salad! This delightful combination of strawberries, avocado, basil, and tomatoes is tossed with a touch of extra-virgin olive oil, and drizzled with homemade balsamic reduction for a refreshing, lightly sweet salad that's great on a hot day. Recipe here