Enjoy Vegan Crock-Pot Recipes Simple And Delicious
|
Simple vegan Crock-Pot Recipes
Slow cooking in the Crock- Pot is, in principle, just the opposite of fast food. The fast food is about being able to produce a meal quickly and to make it very easy and quick to prepare.
Slow cooking runs differently – which can only be done quickly, is the preparation of the ingredients: cut vegetables, add the broth, stir the sauce. The transfer into the stone bowl is even faster. You can enjoy the vegan Crock- Pot Recipes without even stirring it cooks by itself.
The great advantage of  Cooking in the Crock-Pot is that you have finally found someone to prepare your food completely automatically. You just have to combine the ingredients of the Vegan Crock-Pot Recipes below.
The most important advantage is that the meal is carefully prepared and therefore almost all aromas and minerals are preserved. So the food is not just finished when you get home. It is still very healthy and absolutely delicious. Get ready for these simple Vegan Crock-Pot recipes and enjoy!
Enjoy Vegan Crock-Pot Recipes Simple And Delicious
VEGAN DAL MAKHANI
Richa is the best resource for vegan Indian food on the web, and her vegan dal makhani looks simple and delicious. Thank God most Indian food is so easily vegan.
VEGAN CHOU FARCI
This beautiful-looking recipe by FatFree Vegan Kitchen uses cabbage stuffed with barley to make a surprisingly easy and healthy crock-pot meal.
BLANKET STEW
This Oh She Glows stew is hearty, healthy, and perfect for whatever veggies are about to go bad in your fridge
EASY SAAG ALOO
This classic Indian dish is made simply in your crock with this recipe by Amuse Your Bouche.
1 MILLION DOLLAR VEGETABLE STEW
This stew by Chocolate Covered Katie looks to me like it lives up to its name
 ITALIAN EGGPLANT CASSEROLE WITH CASHEW-TOFU RICOTTA
You can make a lasagna in your crock-pot, apparently! Just look at this recipe by Cara's Cravings to find out how.
Crock Pot Apple Spice Steel Cut Oats
Steel cut oats take forever on the stove, but this Oh She Glows recipe uses a crock-pot to speed up the apple spice breakfeast
>TAMALE PIES
Yes, you can make a tamale pie in a crock-pot, thanks to this simple recipe by Chocolate Covered Katie
VEGAN JAMBALAYA
If you're in the mood for rice and beans, this easy Connoisseurus Veg crock-pot recipe will hit the spot.
SLOW COOKER INDIAN CURRY POTATO SOUP WITH CASHEW CREAM
Now, about this soup…it's almost not soup. Soup that's almost not soup is the best kind of soup. By "almost not soup" I mean it's quite thick and hearty, as you can probably see from the photos. Maybe bordering on stew, but I think aloo mutter technically is a stew, and we've got to differentiate somehow.Recipe
SLOW COOKER VEGAN SAUSAGE HOAGIE
Slow Cooker Vegan Sausage Hoagie makes life easier by being able to do it all in the crockpot. A flavorful sandwich that would hit the spot right now Recipe 
Canadian Maple Baked Beans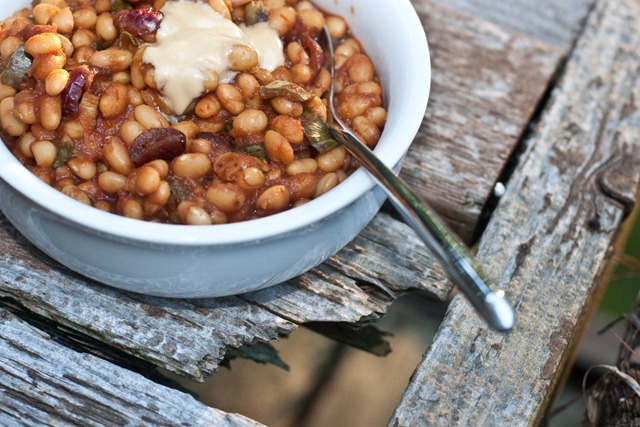 Oh and dinner was sooooo worth the wait! I made one of my favourite Canada Day recipes- Maple Baked Beans. This was my first time making a vegan version and it turned out better than I could have imagined.
Get more recipes here >Recipes To Keep You Warm & Well-Fed
DELIGHTFUL DINNER RECIPES YOU CAN FALL IN LOVE WITH
HOW TO USE HEALTHY AROMATIC HERBS INSTEAD OF SALT
THE BEST ARTICHOKE HEART RECIPES A HEALTHY DELICACY